It's Time to Gather Instruments for the Kids!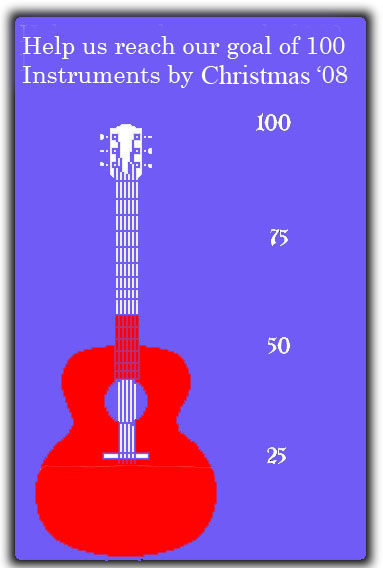 Its summer time now and its time to clean out your closets and garages of those unwanted music instruments. You know, the ones that have been sitting there all this time, just collecting dust. We even take instruments that might need a little work. We take guitars, any horn instruments, violins, or as one of the music teachers said," We will take anything you give us, we will put it to good use."
We are a volunteer operation and funding comes from Dragonfly.com and from our own pockets and you folks who care. Our headquarters are here in Roanoke, Va. and we are a very grass roots organization.
Simply put, this is how it works; You hand us the instrument, and we store it until we make our trip this coming Sept. We then go the schools we have adopted and give them to the music teachers. It's that simple and a very much one to one person kind of thing. We even like to take a picture or have you send us a picture of you with your instrument.
There is still a strong need in the Gulf coast in the schools of musical instruments. After 12 trips and over 175 instruments we are still finding a strong need in the schools. We now have 5 schools we have adopted. Below are some of the quotes from the schools we have adopted.
"Last year, you and your wonderful group of friends surprised us at St. Tammany Junior High with two generous donation trips. Our students were excited over the additional "much needed" instruments that you provided. . I wanted to take this opportunity to thank all of you once again for your support during a most difficult time"
"I am a native Texan and lost my home as a result of Hurricane Rita, you may find the feeling of gratitude that the thousands of Louisiana Katrina victims would extend to you. You touched so many lives in such a positive way. Thank you!"
"Hello! My name is Brian and I am the Chorus teacher at St. Tammany Junior High in Slidell, La. I am extremely grateful for the guitars that you have donated to us."
And thanks to the many folks who have given their instruments to the schools in the Gulf coast!
Collecting centers and times so far: July 26th Putnam County 4-H fair- Brewster,NY For more information please contact: putnam@cornell.edu
Aug. 16 and 17-Asbury Park, N.J. - 35th Annual Clearwater Festival- For more information please call 732- 872- 9644