Henry The Fiddler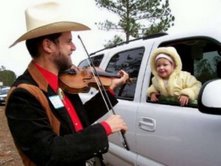 In Nov. of 2005 Henry joined The Feel Good Tour from Arkansas when Bill & Al were living at the firehouse in Slidell, La. Henry spent 3 months on the ground in the Gulf Coast often on the go.
Henry has been a frequent performer at festivals throughout North America and on the National Public Radio program, Folk Festival USA. He has been a frequent winner and special entertainer in many fiddling contests across America. In 1976, Henry was honored as one of the United States' top 20 fiddle players at the National Oldtime Fiddlers' Contest held in Weiser, Idaho. He has also won awards at the Union Grove Fiddlers' Convention, Union Grove, North Carolina and the Jazz and Heritage Festival, New Orleans, Louisiana. In the late 70's, Henry toured the United States in a school bus with some of his friends, entertaining at colleges and community concert series. Henry has toured 8 countries: the Czech Republic, Germany, England, Spain, Italy, Thailand, Australia and New Zealand. Being a spur-of-the-moment trip there wasn't time for advanced bookings. So Henry played the streets of the world and picked up casual jobs along the way. In Thailand he sat in with a country band on the island, Koh Samui.
Henry The Fiddler
---
Mel and Vinnie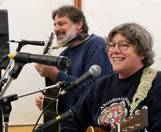 They know Bill Hudson through the boat, The Clearwater and in February 2007 joined Bill and Al Coffee on a Feel Good Tour trip down to the Gulf Coast to bring donated instruments to Slidell and Buras Louisiana Public Schools. They played for school children and community shelters in the area. For Mel & Vinnie it was a reawakening experience leading to new ongoing commitments. In 2008 they will bring Peter Spring at The Steven Spring Foundation a Hammond Organ to be gifted to a local church.



Mel and Vinnie
---
Guy Davis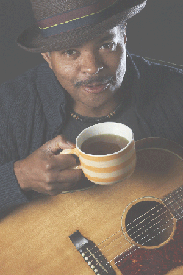 He's a musician, composer, actor, director, and writer. But most importantly, Guy Davis is a bluesman. The blues permeates every corner of Davis' creativity.
Throughout his career, he has dedicated himself to reviving the traditions of acoustic blues and bringing them to as many ears as possible through the material of the great blues masters, African American stories, and his own original songs, stories and performance pieces.
His influences are as varied as the days. Musically, he enjoyed such great blues musicians as Blind Willie McTell (and his way of story telling), Skip James, Manse Lipscomb, Mississippi John Hurt, Elizabeth Cotton, and Buddy Guy, among others. It was through Taj Mahal that he found his way to the old time blues. He also loved such diverse musicians as Fats Waller and Harry Belafonte.
His writing and storytelling have been influenced by Zora Neale Hurston, Garrison Keillor, and by the late Laura Davis (his one hundred and five year-old grandmother)
Davis' creative roots run deep. Though raised in the New York City area, he grew up hearing accounts of life in the rural south from his parents and especially his grandparents, and they made their way into his own stories and songs. Davis taught himself the guitar (never having the patience to take formal lessons) and learned by listening to and watching other musicians. One night on a train from Boston to New York he picked up finger picking from a nine-fingered guitar player.
In 2006 Guy Davis came down to Slidell, La. to do two concerts for The Feel Good Tour, one for the city of Slidell, another for the volunteers at a local church. He also has given two instruments of his own for the school kids in the area We thank Guy and his team in helping folks get back to life in the Gulf Coast.
Guy Davis
---
Rich Baumann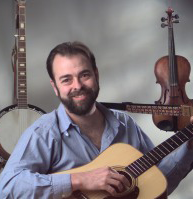 In February of 2007 Rich met Bill Hudson on the web radio statio Whole Wheat Radio and left his Wisconsin home to bring down musical instruments. Rich has been down two times to the Gulf Coast. He now has his own program called The Million Closets Project.
The Million Closets Project is gathering donated musical instruments and providing them to school children in the devastated Gulf Coast.
Call 608-241-2615 for info or to donate instruments
Rich Baumann
---